Facing Issues Below With Your China Entity?
Lack of an integrated payroll plan and a proper payroll solution process
Lack of scalability to meet continuous headcount growth
Managing the right size of your business and cut down operation cost
Lacking resources and specialist to manage payroll in China
Keeping your China business's payroll information confidential
Rapidly Increasing administrative burden
Since PRC's new labour law came into effect on Jan. 1, 2008. the employment in China is becoming more and more complicated, more so if you operate a national wide business. At mean time, China governments tend to revise minimum wage levels and welfare on an annual basis.
Let us help you. Our HR Agency Service cover below areas:
Personnel & Legal Benefits Outsourcing Service
Handle staff employment and resignation formalities, and transfer personnel, archive, organisation and social security relations.
Go through such formalities as Shanghai Residence card application(residence points)
Individual Income Tax service
Information communication
Attendance & leave accounting
Standardised & Customised reporting service
Release Recruitment Advertisement online
Talent Database CVs Download
Selective of CV and arrange interviews
Employee Background Verification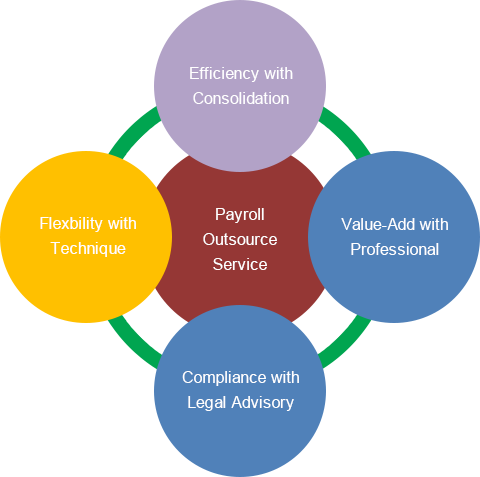 Professional Consulting Service
With experiences in providing HR services and related legal support, we are able to provide diversified employment-related legal services for enterprises according to the characteristics of the industries they are in and their specific needs, including the drafting and review of legal documents such as labor contract and employee handbook, legal consulting, etc. The aim is to give legal support to enterprises in employing people according to due standards and help them establish an effective legal risk prevention and control system.
We can provide flexible corporate Payroll services that improve payroll management for employers of every size. We handle the time-consuming tasks of payroll processing and employee payroll tax filing so employers - regardless of their size - can focus on their own business.
More information about Payroll services, please see the service details and Procedures of Payroll services in China as below:
Name list of your China employee
Basic salary, allowance and reimbursement, attendance record (including personal leave, sick leave, overtime), bonus,    commission and deduction, etc.
China entity's business licenses for statutory social benefits bank account opening
Documents for registration of social security account with local labour authority
Details Of China Payroll Services:
Initial payroll setting up, which includes:
Employer registration with statutory social benefits
Applying for employee's labour manual from relevant authorities (if applicable)
Update your China entity staff's personal details
Coordinate with bank of your China entity on proper payroll procedures (if applicable)
Assistant in opening personal bank account for each employee
Salary calculation and net salary payment arrangement
Preparation of your staff's pay slips
Payroll report for your local accountant
Assistant with external audits and inspection by social benefit authorities
Review of payroll process, including payroll process efficiency review, tax and labour law compliance review and assistance in payroll system set up
Assistance in payroll system set upAssistance in payroll system set up
Preparation and filing of employees' PRC individual income tax returns and assistance in settling any related tax liability